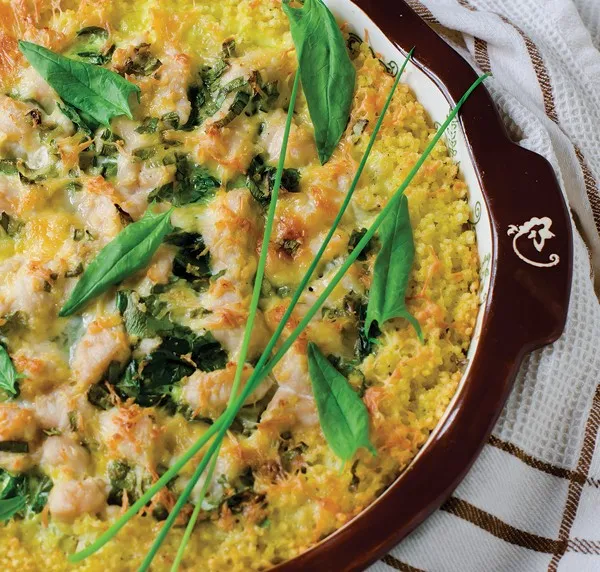 Are you experiencing nausea, fatigue, diarrhea, constipation, taste changes, dry mouth, or weight loss? We share healthy recipes that can help you cope.
Different treatments and different kinds of cancer are going to affect your ability to eat in many different ways. It is important to try to stay nourished as much as possible.
Eating healthy can help you curb these side effects and cope with related eating challenges. A nutritious diet has other benefits too. These include:
Maintaining a healthy weight
Lowering the risk of infection
Improving overall sense of well-being
Here are 7 common side effects during cancer treatment and healthy recipes that can help.
1. Nausea
If you are feeling sick to your stomach, you probably don't have much of an appetite. Did you know that an empty stomach can make nausea worse? So, eating a small amount of food every few hours can help minimize it.
For a soothing antidote to nausea, try our Ginger Turkey and Wild Rice Soup recipe. One of the key ingredients is ginger root, which has been shown to help soothe nausea. Broth-based soups like this one can also provide essential fluids and electrolytes.
Find Tips to Cope With Nausea and Vomiting
2. Fatigue
Feeling tired, weary, exhausted, or worn out? Fatigue is a common problem for people coping with cancer. It may be a side effect of your treatment or the cancer itself.
Making sure your body is hydrated and nourished can help you feel more energized. Start your day off with our Almond Banana Wheatberry Cereal to refuel your body with nutrients. Wheatberries are an ancient grain, high in fiber and protein, and have a nutty, chewy texture.
Need extra time to rest throughout the week? Make a full pot of Almond Banana Wheatberry Cereal for the week ahead and keep in your refrigerator. Then you can enjoy a nourishing bowl whenever you need to quickly replenish your body – morning, day, or night.
3. Diarrhea
Diarrhea can result from some chemotherapy drugs, certain surgical procedures, and radiation treatment to the pelvic area. The apples and oats in our Apple Cinnamon Muffin recipe provide soluble fiber, which can help minimize diarrhea. The best part? These muffins are made with pure maple syrup, giving them a touch of natural sweetness. You can also substitute peaches or berries for the apples in this recipe.
If you are experiencing more than 3 episodes of diarrhea in one day, contact your healthcare team. Diarrhea can lead to dehydration or changes in the levels of potassium and sodium in your body. Changes in these levels can be dangerous if not corrected.
4. Constipation
Another common side effect of treatment is constipation. This could happen for different reasons. Eating a low-fiber diet, not drinking enough fluid, and not being active are common culprits. Surgery, pain medications, and some chemotherapy drugs can also cause changes in normal bowel function.
Finding ways to incorporate gentle physical activity into your day can help. In addition, fiber-rich meals like our Colorful Lentil Soup can promote regular bowel movements. Easy to make in one pot, this recipe combines veggies like celery, carrots, tomatoes, and zucchini into a hearty, nourishing soup.
Discover Tips to Cope With Diarrhea and Constipation
5. Change in taste
Have you noticed that foods don't taste the same to you now? Some foods may taste like metal or chalk. Or you may find that foods have no taste at all. It's common for cancer treatment to affect both taste and smell. In turn, this can impact your desire to eat. The good news is that changes in taste are usually temporary and go away after treatment ends.
In the meantime, our Polenta With Fruit Compote may help with the taste changes you're experiencing. The recipe brings together maple syrup and tart berries for a fruity, flavorful treat. It's an ideal meal or snack to cope with taste changes, aversions to sour taste, or difficulty swallowing. This compote is also packed with antioxidants and fiber.
6. Dry Mouth
Dry mouth is a common side effect of cancer treatment, namely chemotherapy and radiation therapy. These treatments can reduce the saliva in your mouth. If you are experiencing a dry mouth, you may notice that it's harder to chew and swallow your food.
Find relief from dry mouth with our cool and soothing Cranberry Coconut Popsicle. This refreshing, 3-ingredient recipe is ideal for anyone experiencing dry mouth, difficulty swallowing, or mouth sores from radiation treatment. Unlike most popsicles, this frozen treat is nutritious too. It has fiber, healthy fat, and protein.
Need Nutrition Help?

Savor Health is a digital health company that provides precision nutrition interventions to manage cancer and other complex conditions. Their Intelligent Nutrition Assistant, Ina®, provides free, 24/7, unlimited, HIPAA-compliant, and secure nutrition services, all from your phone.
7. Weight Loss
Have you noticed that it is hard to gain or keep on weight? It may be a side effect of your cancer treatment or a loss of appetite, if you haven't felt like eating.
Significant weight loss and muscle loss are associated with a condition called cancer cachexia. If you are experiencing significant weight loss, speak with your healthcare team.
If you are coping with minor weight loss, eating healthy, high-calorie foods may help you gain some weight. Our Cheesy Chicken Millet Bake is high in calories, protein, and fiber. The leeks and cheese give this recipe a rich flavor and creamy texture. If you love traditional chicken and rice casseroles, this recipe is one to try.
Get Tips to Cope With Weight Loss and Weight Gain
Always let your healthcare team know when you are experiencing any eating problems or side effects. They can help determine the most effective way to address them. Speaking with a registered dietitian can also be helpful. A dietitian can share recommendations to help you meet your nutritional requirements and keep your immune system strong. These strategies, combined with healthy eating, can boost your wellness during treatment and beyond.