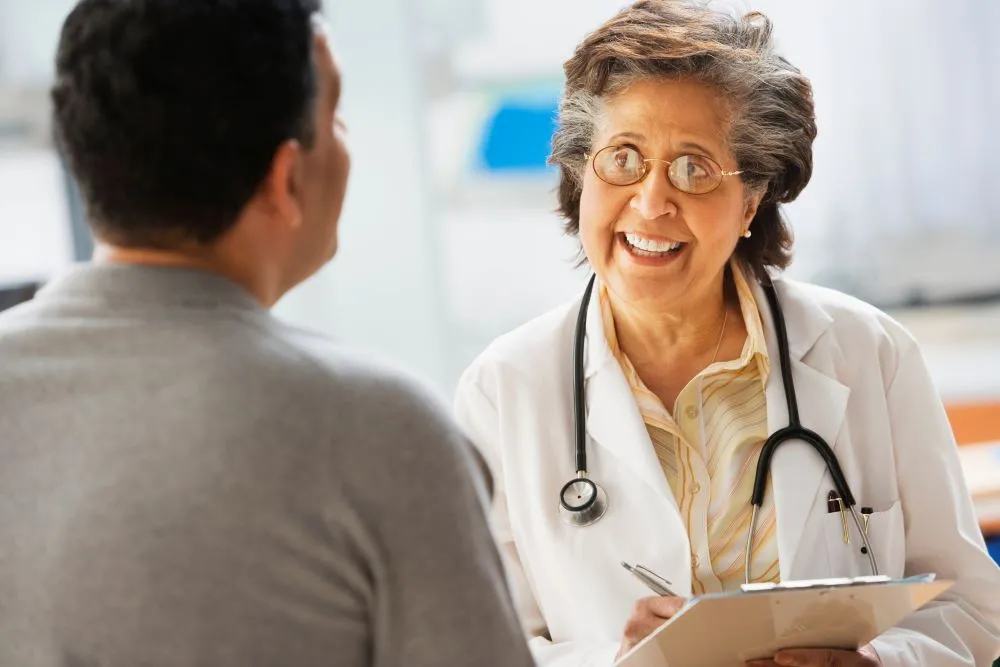 One of the first decisions everyone diagnosed with cancer must make is choosing a treatment that's best for them. For many patients, the decision is not an easy one, whether their options are many or few. Some patients also might find that their doctor's priorities are different from their own. A doctor's No. 1 priority is treating a patient's illness or disease. But for some patients, their No. 1 priority may not be their disease.
"It's not surprising that doctors and patients have contrasting agendas," Danielle Ofri, M.D., wrote in a blog for the New York Times. "We come to illness from entirely different perspectives and backgrounds. Moreover, the angles of our respective lenses are mismatched."
Coming to an agreement with your healthcare team about what's best for you can be a unique challenge, but it's attainable. For Dr. Ofri and one of her own patients, the challenge was "to help each other adjust the angles of our respective lenses so that our visions could come into common focus."
So, what happens when your priorities and your doctor's priorities don't perfectly align? Keep reading for tips on striking a balance that works for you.
Communicate Your Needs & Goals
Cancer and its treatment can be disruptive to everyday life. We recognize the delicate balance between maintaining your lifestyle and treating your disease. It's important to discuss your treatment options, questions, and concerns with your healthcare team. Let them know what is important to you so the disease can be treated effectively without compromising what matters to you. Through open and honest communication with your doctor, you can make a decision you feel comfortable with.
Here are a few examples of topics to discuss with your doctor:
What treatments are best for me and why?
What are the risks and benefits of each treatment option?
What side effects should I expect?
What can I do to feel better?
In addition to learning what your doctor feels is the best goal of your treatment, you can share your own goals around treatment. A goal of treatment may be cure, slowing or controlling tumor growth, or extending your life while maintaining quality of life.
You can also inform your doctor about any personal goals or plans you have. For example, you may want to attend a loved one's upcoming wedding or other special event for which you want to feel your best. By communicating your goals and plans, you and your doctor can work together to decide the best treatment for you.
Discover Tips & Tools to Help You Make Treatment Decisions
Even though you don't feel like researching your cancer, it is truly critical for treatment. The more you know, the better. Doctors don't have time to explain everything, or nurses, so it is important to take notes or record the conversation. I record the office visit, go home, listen & write down what was said and then erase.

― Nancy, diagnosed with cancer
Ask About Clinical Trials
One treatment option many cancer patients have at their disposal is a clinical trial. Clinical trials for cancer are research studies that compare the most effective known treatment for a type or stage of cancer with a new approach, such as a new drug or combination of drugs. People with any type and stage of cancer should take the time to explore this possibility.
Even if your cancer is in remission, you can participate in trials that seek to improve your mental and physical health for the road ahead. Clinical trials are not ideal in every situation, but they are always worth looking into.
Find Out More About Cancer Clinical Trials
Reach Out for Support 
Making a decision about cancer treatment can be overwhelming. Sometimes it's hard to know what questions to ask your healthcare team. If you aren't sure where to start, we offer a decision-support counseling program called Open to Options®. This program can help you create an organized list of questions and topics to discuss with your doctor so you can explore your situation and choose the best treatment option for you. Open to Options is available in English or Spanish for people with any stage of cancer. Call our Cancer Support Helpline at 888-793-9355 to learn more about the program.
Cancer care is changing. Watch this short video about new models of care that can improve your life.
Don't Forget Self-care
The hard decisions don't end in the doctor's office. Taking action in your cancer journey also includes taking care of yourself. There are steps you can take to improve your quality of life when living with cancer. Strive to make your health and well-being a priority. Choosing to face cancer head-on is a decision that empowers you to continue living your life your way.