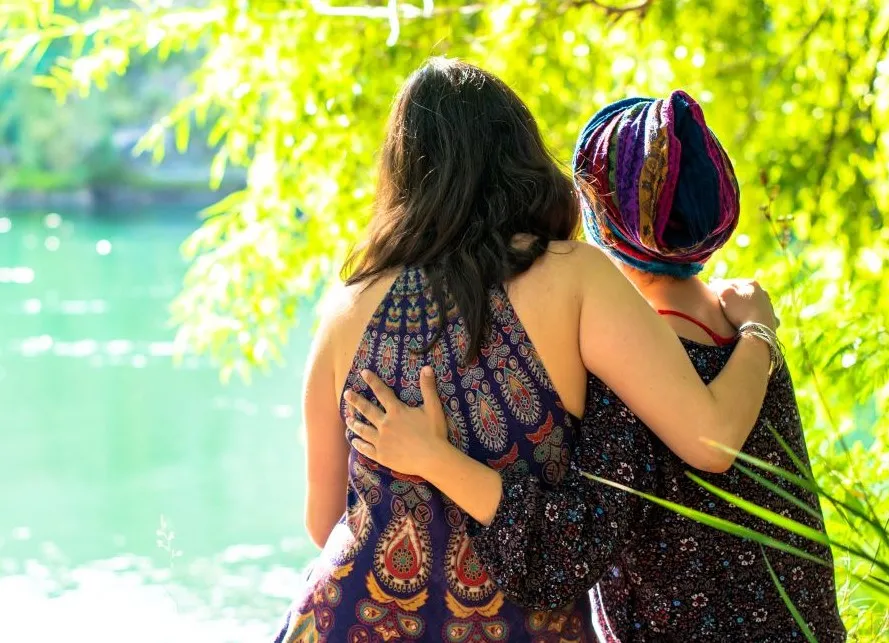 Our research uncovered one surprising explanation about the link between pain and nausea and psychological well-being. Keep reading for more details and ways to cope.
A cancer diagnosis brings about much more than physical concerns. For many people, the symptoms and side effects of their cancer and its treatment can affect their mental health and well-being.
"When a person is experiencing physical side effects from cancer and its treatment, their outlook can be negatively affected by these symptoms," notes Brittany, MSW, LCSW, a navigator for our Cancer Support Helpline.
This is especially true for people with metastatic disease, whose symptoms and side effects can be more severe. For example, one physical symptom that metastatic breast cancer patients commonly report is intense pain. Opioids are often prescribed to help manage the pain, but they can lead to another physical problem: increased nausea, a common side effect of opioid-based pain medication.
Our research team set out to understand more about the link between physical side effects and mental health among people with cancer.
Here's what we learned:  
We examined how symptoms and side effects impact people with metastatic breast cancer. Our research showed that pain and nausea were not just physical concerns for patients; they also influenced their mental health. The more pain a patient experienced, the more likely they were to experience depression and anxiety. The same thing was true for nausea. The more nausea a patient experienced, the more likely they were to experience depression and anxiety.
Read our full research article in the Journal of Patient Experience.
There are likely different ways that pain and nausea can lead to depression and anxiety. Our research team uncovered one surprising explanation: It may have to do with how much pain and nausea interfere with someone's social life.
"If the physical side effects impact the ability to do things such as attend to daily tasks and responsibilities, socializing, or even participating in activities previously enjoyed, which are important to our overall mental health, it can be very distressing," Brittany explains. "Over time, this can lead to experiencing anxiety or depression symptoms."
In our research we found that, among metastatic breast cancer patients, pain and nausea were linked with having more trouble doing work and leisure activities, including activities with family and friends. The more trouble patients faced in these areas, the more likely they were to also experience depression and anxiety.
The reverse was also true: Patients who were more engaged socially showed less severe depression and anxiety and better overall psychological health.
So, what does this mean?
Can people living with cancer improve their mental health by engaging in an active social life, even when dealing with pain and nausea? Possibly, but more research is needed before we can know for sure.
What we do know for certain is, with the right support, people can find healthy ways to cope with the symptoms and side effects of cancer. It's important to note that people don't have to navigate their cancer diagnosis and health concerns alone.
Did You Know?

Our Cancer Support Helpline provides free navigation for cancer patients or their loved ones by phone at 888-793-9355 or online via our chat service.
Connecting With Others Can Help You Cope: Here's Why
For people who are experiencing side effects from cancer and its treatment, it can be beneficial to meet others who are going through similar experiences. Support groups facilitated by trained professionals offer a safe environment to socially engage and share your experiences with others.
"We've all felt the physical manifestations of stress and anxiety through headaches, stomach pains, and more," says CSC's Vice President of Partner Relations, Kelly Hendershot, LGSW, LMSW. "Similarly, when the body is in pain, the mind feels it. It's important to have a safe space, like a support group, to process how physical pain is impacting you in all areas of life."
Gilda's Club and CSC have 175 locations worldwide that offer free professionally led programs for people impacted by cancer, including support groups. In these groups, pain management and the emotional aspects of being in pain are common topics, says Kelly.
"Rather than focusing on the loss of control you have when it comes to pain, the conversation often shifts to what you do have control over — prioritization," she notes. "You may not be able to do everything you once enjoyed, but you can prioritize how you want to spend your time when the pain is manageable."
And when you attend a CSC support group, there's no need to hide any pain you may be feeling.
"Our groups follow a come-as-you-are mentality, which includes sharing how your pain truly makes you feel," says Kelly. "When you are vulnerable about how the pain impacts your emotions, there begins to be a shift in mentality. You begin to gain back some control by putting a name to those feelings."
Find a Caring and Supportive Location Near You
Support groups are just one way to connect with others when you're coping with cancer and its side effects. CSC locations also offer programs like educational workshops and yoga classes.
"For those who are more doers than talkers, healthy lifestyle activities such as yoga and meditation can help bring calm to your mind in times of pain," Kelly notes. "In either setting, you're surrounded by others trying to manage the pain that comes with a cancer diagnosis or its treatment. And that community of shared experience can be powerfully uplifting."
Connect With Others Online
If you are living with cancer or navigating survivorship, but you don't live near one of our physical Gilda's Club or CSC locations, we have you covered. Connect with others like you through our digital support community, MyLifeLine.
When you join MyLifeLine, you can create a private site to document your journey and receive support from friends and family along the way. There are also discussion forums on a variety of cancer-related topics like Coping With Side Effects, Living With Breast Cancer, Nutrition & Wellness, and more. Members can join as many forums as they wish to connect with others like them.
Build Your Online Community Now
To conclude, there are many ways to connect with others when coping with cancer and its side effects. Online discussion forums, support groups, counseling, and peer mentorship are just some examples. Through these types of connections, there's the opportunity to learn about new coping tips and strategies that have worked for others.
"By connecting with others who have been through something similar," says our Helpline navigator Brittany, "you are getting first-hand experience of how they have lived and managed the physical side effects of cancer and treatment. This can help a person feel less alone and feel more heard in their cancer experience."